Money Talk: Affiliate Links, Paying the Bills, and SBA.gov
I've updated The Why (the about page) to list the services and programs that make this site come together. They're all linked to the source, and some are affiliate links – which give me coin if a reader clicks the link and orders a service. Hop over to that page for a quick look at the shiny things.
Monetizing the site is something that's been on my mind since before I created the site. I hadn't done much research until recently, and of course, there's endless ways to do it. I wrestled with adding any advertisements to the site, because I don't like ads. Well, I don't like the intrusive ones or the ones that fill 80% of a window. I do, however, like the idea of the site paying it's own rent and utilities. Safe to say that I really, really like the idea – more than a friend.
Ads
With keeping in my mind my own dislike for intrusive selling prompts, I will add discrete embedded advertisements or links for products (especially books), services, sites, and my own products – should I offer them some day. I'll also do my best to express why I believe in or use the thing I'm pitching. What you won't see, most importantly, is FREAKIN POP-UP ADs.
I will not do it. I might prompt you for a free offer from my site, but
I promise
I will not allow a single click-me-to-continue or register-here-to-proceed or take-this-survey type ad. That stuff is super annoying. I don't have a Pinterest account, because they force you to register before viewing something. Because I prefer to have the option, I've never registered – not even through Facebook. That's the level I am on, and personally, I think if it's something put on the internet, it's free information.
I'm also looking into renting out ad space – a process of reserving a block on a post or page that a third party company shows their ads. I have an idea about readership patterns and the posts that attract the most attention, because I use Google Analytics. I have no idea about how much I expect the site to earn. As of this post, I'm a novice on the discussion, and I'm probing other web site owners that I like with a list of questions.
Bills That Are Not Bills
More on the concept of paying the bills: it doesn't cost very much to run a web site. It's kind of a really good deal. Below are the programs and resources I use to run the. I sorted them with the must have's (needed) items first. The other services have free options, but I've decided to pay for the smarter, feature-rich options. I use Pluralsight, and I hear Lynda is good too.
Here's the break down (Click to zoom):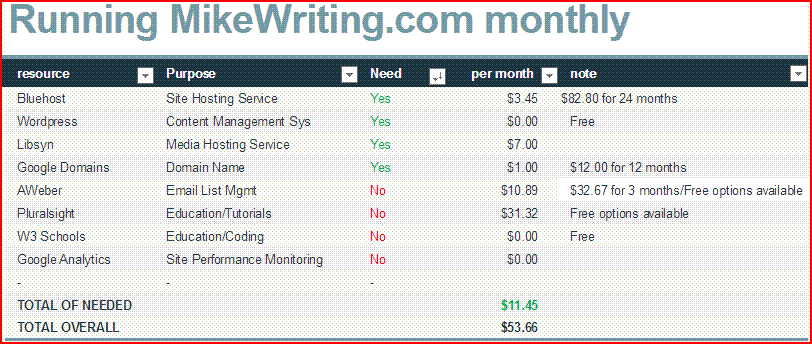 This whole conversation brings up thoughts of whether or not any of these are considered business expenses. I should look more into that. There will definitely be a post about what I learn after sitting down with a tax professional.
Small Business Administration
I'm currently lost in the forest of SBA.gov (Small Business Administration) and eating everything that looks edible. Sometimes I hop over to IRS.gov when a reference is made to certain forms, but holy crap that's like reading the old testament as a 5 year old. There's a lot of good information from both sources if you're considering building your own business. The only limitation to my becoming guru level on the material is that there's only 24 hours in the day (STILL…I bet Mars has way better hours. You could probably read novels by the week over there.) At some point I sit down with a business attorney and accountant to ask questions I don't even know I have right now.
SBA.gov surprised me. I expected a lot of law language and things to go over my head. But no, it's written by human beings. It asks questions to prompt you to be realistic about your expectations. It's got great resource references, and it's full of tips. It's pretty great.
This is a headsup about what changes to expect from the site in time. Expect discussions about ad revenue and posts about my journey's into starting a company, creating my brand, and navigating the US patent system. ADVENTURES AWAIT!
The Why page has been injected with heavy doses of transparency. Check it out.
Do the work you love; maybe it will feed you. *fingerpistols*
---